Small, quick post today.
Got a 2,000pt game against my friends Death Guard (what a way to end the year) and I've decided to field the Guardsmen rather than the Imperial Fists (though I'm itching to use those as well).
So heres a quick pic of everything I'll be using (infact every Imperial Guard model I own). It's all in various stages of completion (check the first Chimera, absolutely covered in dust).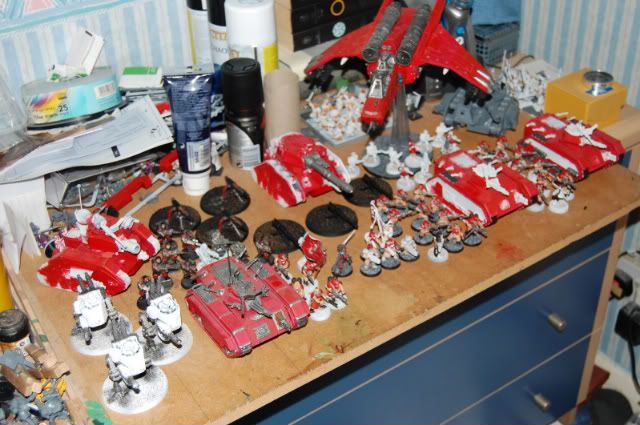 The list is:
Command Squad
plasma pistol, power weapon, standard, medic, 2 plasmaguns
Commissar Lord
power weapon
10 Stormtroopers
plasma pistol
Infantry Command
standard, 3 flamers, commissar, powerfist
Chimera
heavy stubber
Infantry Squad
flamer, commissar
Chimera
heavy stubber
Infantry Squad
flamer, commissar, power weapon, plasma pistol
Chimera
heavy stubber
Veterans
3 plasmaguns
3 Scout Sentinels
lascannons
Valkyrie
Leman Russ
heavy bolters
Leman Russ Demolisher
heavy bolters, heavy stubber
Leman Russ Vanquisher
lascannon, heavy stubber
Lets hope the Vanquisher does something this time :)
Will report on the game later tonight, wish me luck,
~Pettsy~